Wine Tags are a great way to save money on dairy, produce and meat –  however they are rare to find! I got lucky when I was in Virgina and I found wine tags! I was so excited!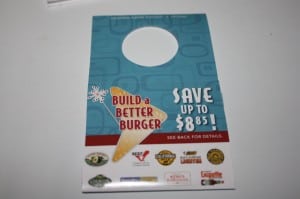 Now you maybe wondering what a wine tag is, it is a coupon that is many times found on wine bottles, there are times that they are not on the wine bottles but for the majority they are. Wine tags will not be found in inserts or in gas stations, but I have seen them when I lived in New Jersey in the liquor stores on the bottles of wine. Of course in a store that does not sell produce, cheese or meat you can not use the wine tags there but you can use them at the grocery store.
Even though it is called a wine tag, it does not mean that you have to buy wine to use the coupon, I have seen some that do require a wine purchase, but those are ones I do not use because I do not buy very much alcohol.
Not all wine tags will be a group of coupons like the one pictured above it. This particular wine tag has a $2 mail in rebate for ground beef, .55/1 hot sauce, .55/1 tomatoes or avocados and a few others. I actually used the avocado coupon today and was able to score them for .76 each!
If You Liked This, Check These Out!