Homefront
Holiday Military Spouse Blog Swap 2011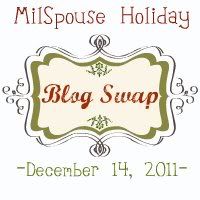 Hello! My name is LC for the blogging world and I am an Air Force Wife currently residing in Virginia and mother to a spoiled rotten dog who rules the roost. I'm so excited and humbled to be posting on Homefront United for the Holiday Blog Swap. I personally have used Homefront United several times for encouragement and just to make sure other Millies were experiencing the same thing. So here is my Holiday memory (military related of course) and I hope you enjoy. Visit my blog: Faith & Deployments .
 Meet Mac
Yes Mac would be our Christmas Tree this year. Now, before you go thinking we are crazy people and we name our trees I have to tell you this is my absolute favorite Christmas tradition with my husband. Christmas is the only holiday we have spent together every year. Including birthdays and anniversaries. I consider myself extremely blessed after 2.5 years of marriage (total of 3.5 together) to have spent every single Christmas with my husband.
The one thing I look forward to the most is getting the Christmas Tree. We go to this little mom/pop business off of a main highway. They are nestled next to a giant produce well known market, but we choose this little place every year. When we were just dating in 2008 we met Emory :
We got our first tree to put in my apartment (since base dorms have rules against live trees…. ridiculous). We checked this place out called Wilcox and immediately fell in love. The family names each and every tree. The best part is we have tags from all the trees every year.
You start to not only pick trees that look good but judge them off their name. We saw one called tiny tim and it had to be 12 feet tall. I think they were being funny and we definitely laughed about that one for a moment.
In 2009 (the year we married) my dream of a Christmas Tradition almost came to a screeching hault. The plane broke to fly the men home from a top secret extended TDY. And then the plane to fix the broke plane broke. I got a call from our key spouse a week before Christmas telling us to not expect them home until next year. Talk about some water works ensuing over not having my husband home for Christmas OR a Christmas tree in our home. But as God would have it my handsome husband got off that plane a day later and off to Christmas Tree Name Land we went. 
Meet Jack Black….
fat and oh so nice.
In 2010 just two months after my husbands 3rd homecoming in 2 years we fell in love with Carl…
This one was a little strange since my husband has an Uncle Carl, however we did him justice and gave him a thick New Yorker accent every time we said his name (both our families are from New York, but the accent skipped our generation).
Well this year, is our last Christmas in Virginia and I almost thought I wouldn't make it through the Christmas Tree Picking. I was much more picky this year than the last three because this had to be the "one" the single most tree that made all the difference. The one that took up our whole front room and touched the 9 foot ceilings. After all this was our last Christmas in my home state, in the home that we purchased two days after our wedding. It would be our last Christmas in Virginia.
I can't wait to see where our next base is (it's secret even to us right now!) and I hope that they have a Wilcox Trees with little tags hanging on them naming them all. If not, we may just have to name them ourselves. After all, isn't that the life of a military wife? Adjusting to her circumstances?
Merry Christmas & Happy New Year! May your year be filled of happiness and blessings.
If You Liked This, Check These Out!